Michelin Guide Tokyo 2021
---
The Michelin star award winners for Tokyo 2021 were announced this year via a pre-recorded video streamed on YouTube on Monday 7th December at 2pm Japan time. YouTube reported a peak of 876 watching live. You can watch a replay here.

In this post we present the full list of Michelin starred restaurants in the 2021 Guide; discuss promotions, demotions and deletions and compare Michelin with Tabelog.

Michelin and Japan
The Michelin Guide is a 100-year institution in France and is still seen as the pinnacle of culinary achievement to many chefs. The first Michelin Guide to cover a part of Asia was the 2008 Tokyo Guide with Tokyo famously being awarded more Michelin starred restaurants than any other city in the world. Michelin divided opinion inside and outside Japan, but the original publication was a runaway commercial success and The Guide really did help to open up fine dining in Japan to the world.

Michelin has always operated a little differently in Japan compared with Europe. Firstly, whereas the European Michelin guides cover an entire country, Michelin produces separate guides for selected parts of Japan. Secondly, in Europe, Guides are always announced with a press release containing the full list of starred restaurants with breakouts for promotions, demotions and deletions. But in Japan, demotions and deletions are never broken out. Last year, Sushi Saito and Sukiyabashi Jiro Honten were famously delisted. This wasn't because the quality of these restaurants suddenly fell off a cliff but is instead for two reasons: (1) Michelin doesn't list introduction-only or members-only restaurants and (2) unlike in other countries, chefs can ask not to be listed. None of this is a secret and chefs will openly talk about the fact they asked not to be listed so the only reason Michelin doesn't list deletions and demotions can be is to save the chef's face. Additionally, it seems like chefs can request to be held at 1 star and not be further promoted. Why would any chef refuse Michelin stars? Well the top sushi restaurants are fully booked for months ahead so they just don't need or want more attention. Moreover, I'm not sure how many Japanese chefs actually realize the Japan Guides are no longer printed in English but there is surely still a perception that inclusion in Michelin will generate more overseas interest, which the restaurant might not be catered for and while you can't really limit your Tabelog rating it seems you can limit your listing in Michelin. Finally, Michelin doesn't have the lineage it has in France and as was reported back in 2007, some chefs just don't respect it.
Michelin and Tabelog
Tabelog has become the leading directory of restaurants in Japan, even launching its own awards in recent years. So with a continually-updated local guide having no limit on coverage and offering transparency; and due to the fact that so many of Tokyo's top restaurants, particularly sushi restaurants, are not even in The Guide, Michelin has become less relevant to Japan and doesn't have the same authority it does in other countries. That said, it still generates a lot of interest from chefs, foodies and the media, it's a great way for new restaurants to get themselves noticed and I think it's still a useful guide to French fine dining with comparatively more coverage of French and the top French restaurants.
Tokyo 2021
So let's look at the 2021 Guide in detail. You can see the official list of restaurants online but the table below has the full list of starred restaurants with breakouts for promotions, demotions and deletions. Included is the Tabelog rating as at 7th December 2020, a link to the restaurant's Tabelog page and any 2020 Tabelog Award designation.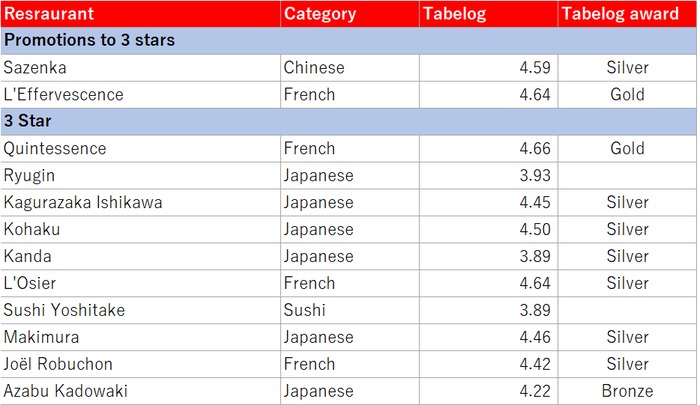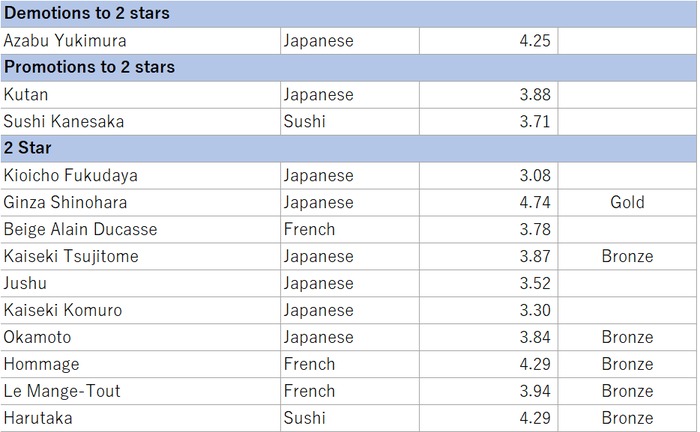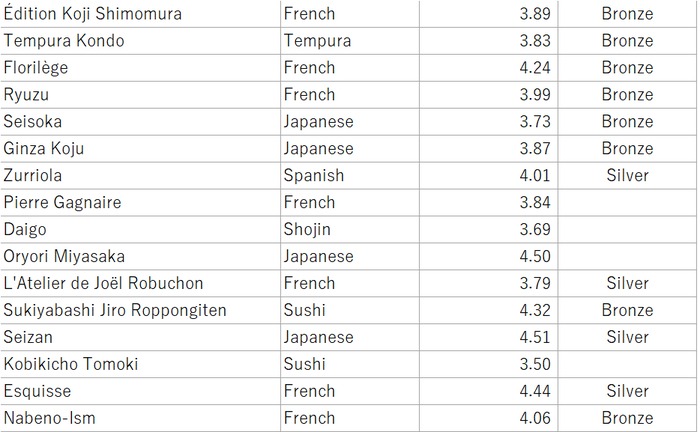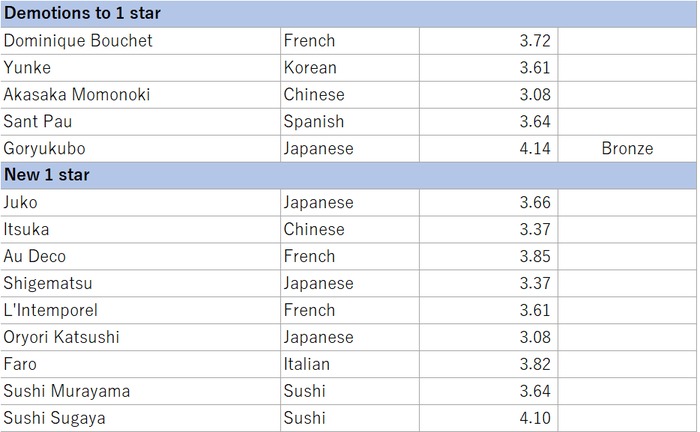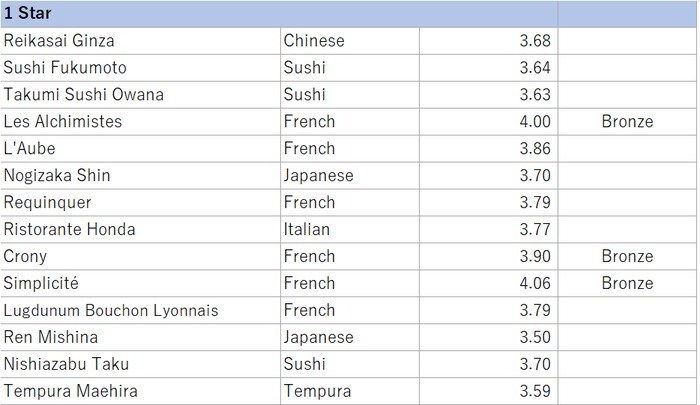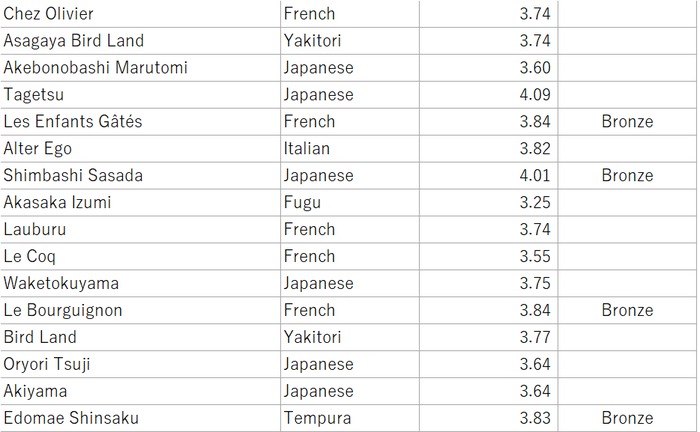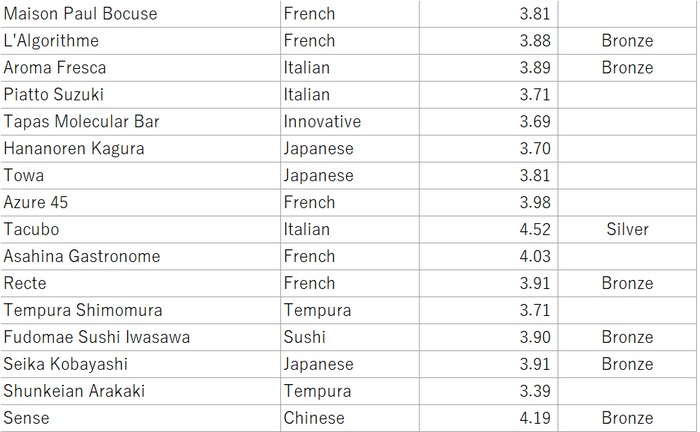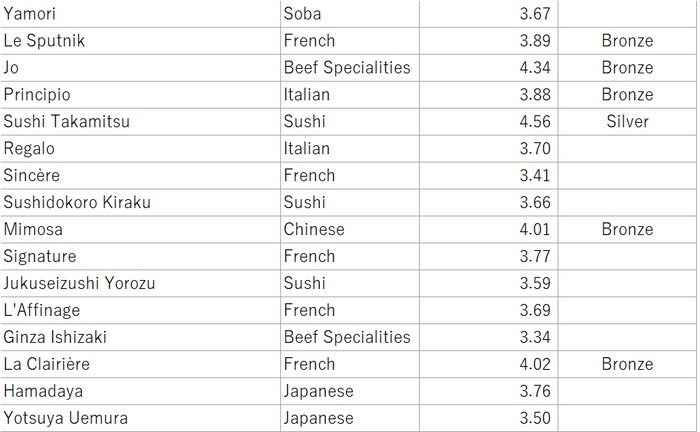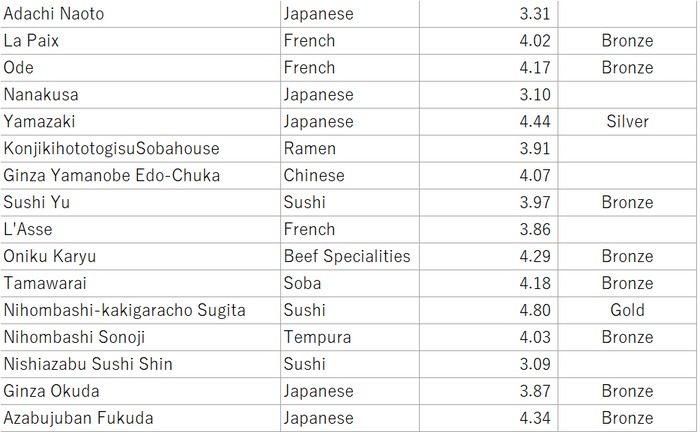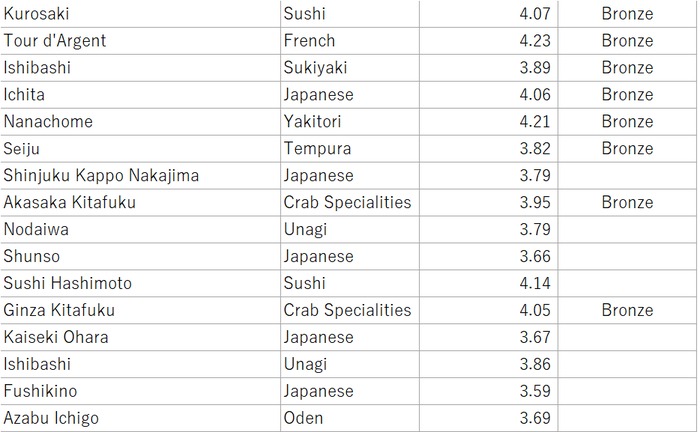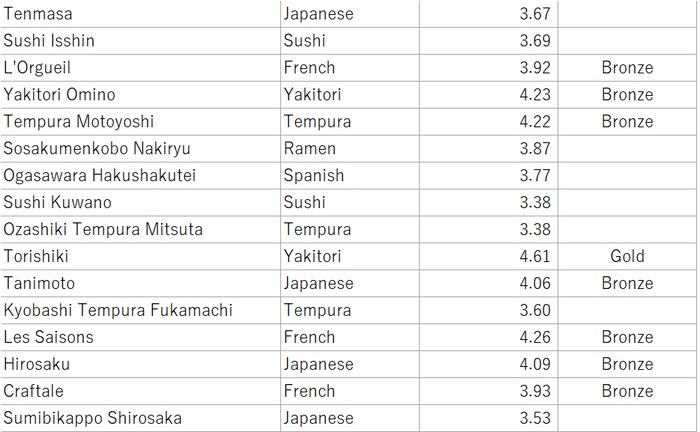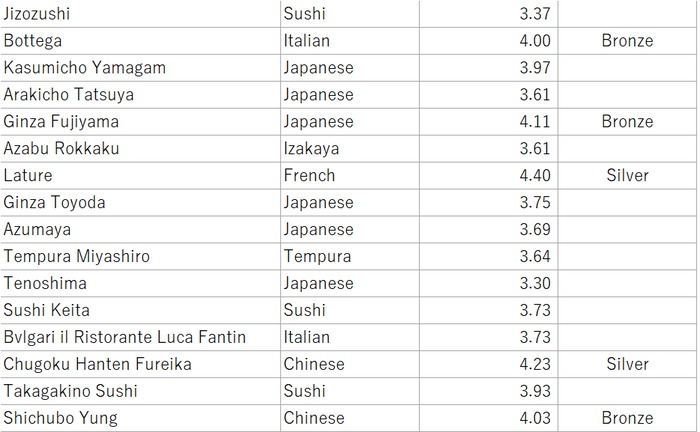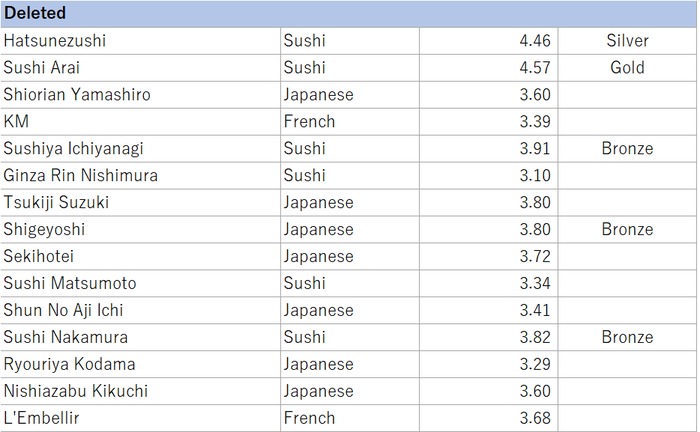 Green Star
This year Michelin introduced a "Green Star" for restaurants with outstanding commitment to sustainability. The first recipients of this award are Quintessence, Floriege, Narisawa, Sincere, Lature and L'Effervescence.
3 Star
L'Effervescence and Sazenka were promoted to 3-star. Tabelog has ranked L'Effervescence in the top 5 French for the whole of Japan for many years now. Like many restaurants, L'Effervescence closed for a period due to coronavirus and when it re-opened they took the decision to stop the cheaper lunch menus and offer only a single menu for lunch and dinner at an increased price of JPY 28,000 - a strategy that has evidently paid off.

Despite Tabelog rankings below 4 and no awards for 2020, Ryugin, Kanda and Yoshitake cling on to their 3 stars. Yoshitake remains the only 3-star sushi restaurant in Tokyo.

Yukimura, which was promoted to 3 stars in 2010 was demoted to 2 stars.

Only two 3-star restaurants received a Tabelog Gold award this year.
2 Star
Kutan and Kanesaka (which previously held two stars from 2008 through 2012) are promoted to 2 stars though no Tabelog award for either this year. Fukudaya is the lowest-ranked 2-star restaurant with a score of just 3.08.

The highest-ranked 2-star restaurants are Shinohara and Amamoto and ones to watch for promotion to 3-star in coming years, assuming the chefs really want the extra attention. I wonder who thinks Yoshitake is a better sushi restaurant than Amamoto?

5 restaurants are demoted to 1-star. Hatsunezushi, which held two stars since 2009, even while it was closed in 2018, has been deleted. Nakaji-san isn't exactly afraid of publicity so this deletion is a mystery.
1 Star
18 restaurants receive their first star. Sushi Sugaya, Hato, Onarimon Haru, and ShinoiS are probably the 'hottest' restaurants on the list, all only having opened within the last two years and quickly rising the Tabelog rankings. Special mention to Sushiya Shota which is one of my favourite sushi restaurants. None of the new 1-star restaurants received a Tabelog award this year. Makiyaki Ginza Onodera is the lowest-ranked 1-star restaurant with a score of just 3.06.


Sugita and Torishiki are the highest-rated 1-star restaurants, both having received Gold awards for the last 4 years. Most people wouldn't argue with Sugita's rating as the number one sushi restaurant in Tokyo (and currently the number one restaurant in Japan, though that accolade could generate a lot of debate) so surely Sugita-san has asked them not to promote him? As for Torishiki, I can only imagine Michelin don't deem yakitori 'worth a detour' or a 'special journey'.

Tacubo, Takamitsu, Yamazaki, Lature and Chugoku Hanten Fureika are the next-most highly-rated 1-stars having Silver awards this year. Given that neither of the two-star promotions this year have particularly high ratings it's hard to guess which restaurants might be promoted next year.

7 1-star restaurants closed. 23 1-star restaurants were deleted, the most notable being Sushi Arai following suit with Sushi Saito's delisting last year.
Further analysis
We've seen that there can be big differences between the number of Michelin stars and Tabelog ratings but how much coverage does Michelin have of the top-rated Tabelog restaurants at all?

On Wednesday 9th December 2020 Tabelog had 128,942 listings for Tokyo. The table below shows the percentage of listings in Tabelog that have a Michelin star for the top 3 types of cuisine. If we assume that there isn't a disproportionate number of poor restaurants in any one category this proves that Michelin has much better coverage of French restaurants than sushi restaurants.

Looking for Michelin starred restaurants in the Tabelog top 20 in each category, we can again see again that French restaurants have good coverage, particularly at the very top and most of the top 20 sushi restaurants are not listed.

French: Quintessence, L'Effervescence, L'Osier, Esquisse, Joel Robuchon, Lature (6 of the top 7), Hommage (7 of the top 9), Les Saisons, Floriege, Tour d'Argent, Ode, (11 of the top 20)
Sushi: Sugita, Amamoto, Takamitsu, Sawada, Kimura (5 of the top 9), Harutaka (6 of the top 20)
Japanese: Shinohara, Seizan, Kohaku, Miyakasa (4 of top 7), Makimura, Ishikawa (6 of the top 10), Yamazaki, Jyo, Fukuda, Kadowaki, Yukimura (11 of the top 20)

It's notable that The Guide doesn't contain a single yakiniku restaurant. The fact that at most yakiniku restaurants you have to cook the food yourself most likely disqualifies them from inclusion but that's not always the case and either way it's a glaring omission of an important part of Japanese dining culture.
Final thoughts
It's been a terrible year for many people and particularly restaurant businesses but the Michelin awards are a moment to celebrate success so congratulations to this year's Michelin winners and thanks to everyone who works in the restaurant business. With a vaccine coming, the Olympics and Japan, hopefully, re-opening to tourists, let's look forward to a better year in 2021 and more fine dining.

What are your thoughts on this year's Michelin guide? Leave a comment below!
Writer The Tokyo Gourmet
The Tokyo Gourmet is a long-term Tokyo resident. I hope my unvarnished opinions on the best (and most disappointing) dining in Tokyo help you to decide where best to spend your cash.
https://thetokyogourmet.blogspot.com/.
Search