How to Find Your Best Sushi Restaurant in Japan
---
More than two years have passed since the coronavirus outbreak that resulted in restraints on overseas travel, and many people are itching to try the best sushi in Tokyo for the first time in a while.
Many new sushi restaurants opened during the Corona pandemic unfortunately closed, giving the impression that the face of the city's most talked-about restaurants has changed considerably in the past two years.
When planning a trip to the city, it is necessary to refresh your knowledge about the restaurants before planning your trip.
Here, I would like to share my secrets I have learned over many years of eating at sushi restaurants all over Japan, so you will never make a mistake in selecting a sushi restaurant.
I hope that you will read through the contents of this permanent edition as a reference for choosing a sushi restaurant on your first trip to Japan in a while.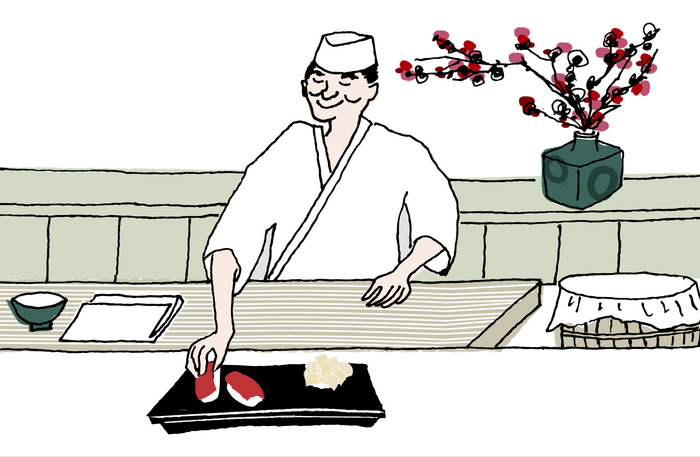 Step1. Determine target price range
A. Mass market restaurant under ¥5,000
B. Town sushi restaurants between ¥5,000 and ¥8,000
C. Middle class sushi restaurants between ¥8,000 and ¥15,000
D. High-end sushi restaurants over ¥15,000
A. choices are chain restaurants (Midorizushi and Sushizanmai) and kaiten-zushi restaurants (Akindo Sushiro and Hamazushi).
If you want to choose by taste, go to a chain restaurant. If you choose sushi for its entertainment value, then a kaiten-zushi restaurant is the best choice.
The latest kaiten-zushi restaurants offer a wide variety of food, such as sushi delivered by a model bullet train and reasonably high quality in udon and ramen.

The hardest places to choose from are the town sushi restaurants in section B and the middle class sushi restaurants in section C.
There are only a few sushi restaurants that offer value for money, and if you choose a sushi restaurant at random without doing much research, you will almost certainly be faced with a "disappointing" restaurant.
Good restaurants in this category tend to be hidden away because regular customers do not want to be crowded and do not disclose their information on the Internet.
To find a little-known restaurant that is affordable, yet authentic and delicious, the only way is to find a sushi expert in Tokyo and ask him or her for personalized advice.

If you have come all the way to Japan to taste the world's best sushi, I recommend a visit to one of section D's high-end sushi restaurants.
In the past five years, there has been a wave of new openings by young sushi chefs trained at prestigious restaurants, which has heightened competition among sushi restaurants for customers, and as a result, the overall taste level of high-end sushi restaurants has risen.

On the other hand, as the market has grown, the price range has been divided into three categories: " cost effective sushi restaurants" (15,000-20,000 yen), "authentic Edomae sushi restaurants" (20,000-30,000 yen), and "top-end Edomae sushi restaurants" (30,000 yen or more), making it more difficult to choose the right restaurant.
If you are going to pay a substantial amount of money for a single meal, you will want to carefully research the characteristics of each restaurant (background of the sushi chef, style of sushi, quality of ingredients served, and atmosphere of the restaurant) and carefully select the most suitable restaurant for your needs.
Step2. Decide on the time of visit
The current sushi market in Japan is a diverse mix of different styles of high-end restaurants.
In order to find a "favorite restaurant" that perfectly matches your taste, a certain level of experience is needed.
In order to minimize the load on your stomach and wallet, and to find a place you want to keep going back to in the future, you will want to take advantage of the lunch specials offered by each restaurant.

Sometimes you may hear unsupported rumors that the sushi served at high-end sushi restaurants for lunch has " little shari (sushi rice)" or " lower quality ingredients," but such rumors are untrue.
Although the quantity (number of pieces) of the course is small, the appeal of sushi for lunch is that you can enjoy sushi at less than half the price of sushi at a high-class restaurant, which costs more than 35,000 yen at night.

If you have a certain number of days to spend in Tokyo, it is recommended that you make your evening plans at "safe choices" such as your favorite restaurants that you already know or famous restaurants that you have always wanted to visit, but I recommend that you try to expand your experience by trying out "new" or "unusual" restaurants for lunch.
Step3. Decide the style of sushi
No doubt, what determines the level of satisfaction during a visit is, above all, "Did I find the sushi at the restaurant enjoyable?"
However, not many people know that the most important factor that determines the "deliciousness" of sushi is not the quality of the ingredients (= fish), but the taste of the shari.
By the way, the styles of shari at sushi restaurants in Tokyo can be roughly classified into the following six categories.
1. Sukiyabashi Jiro style :Rice vinegar and more salt are used for the shari. The sharp acidity of the shari vinegar is its distinctive feature.
2. Hashiguchi style :The shari is made with a small amount of rice vinegar and salt. The shari has an elegant taste that highlights the true flavor of the rice.
3. Shinbashi Shimizu style:Red vinegar and more salt are used for the shari. The shari is unique for its firm and powerful acidity derived from red vinegar.
4. Sushi-sho style:Both red vinegar and rice vinegar are used depending on the ingredient. Both are moderately salted, so the assertion of the shari itself is not as strong.
5. Hokake style :Old style shari from so-called old established sushi restaurants. It is made with red vinegar, salt, and a small amount of sugar. The acidity is low and there is a hint of sweetness derived from the sugar.
6. Other styles:A blend of red vinegar and rice vinegar is used. The sourness is perceived differently depending on the ratio of the blend at each restaurant. The latest trend is to use no sugar at all and to use hard-baked rice.

If you already know your preferences, choose a restaurant that serves the same style of shari If you are not sure of your preferences yet, try different types of shari
The ultimate key to choosing a restaurant that satisfies you is to know your own preference before you know the restaurant.
Step4. Decide on a restaurant
Time of visit (Lunch? Dinner?) Once you have decided on the style of sushi (taste of shari) you would like to try, it is time to choose a restaurant.
If you can read and write Japanese, you can choose the best restaurant by reading reviews on food logs, but for foreign tourists, not being able to read reviews is a challenge.
As a practical point of reference, you should
・Read guidebooks in your native language
・Read blogs in your native language
・Find an instagrammer who knows a lot about sushi and check their posts.
・Read reviews on global review platforms such as Tripadvisor
・Search on Google
Although I believe that these are the main means, especially be careful with Google searches. Most of the media articles that come up at the top of a search for "Sushi Tokyo" (such as "30 best sushi restaurants you should visit in Tokyo") are written by amateurs who have never even been to a sushi restaurant, so they are not worth your time.

It would be reasonable to ask the opinions of people around you (family, friends, or people you connect with on social networking sites through food ), rather than relying on information from major media outlets.

Also, when choosing a restaurant especially for foreign tourists,
・Does the restaurant have English-speaking staff?
・Is taking pictures allowed in the restaurant? (It is not unusual for stores to prohibit photography these days. ) Since it's your special trip, you would want to take pictures to commemorate it.
・Can you sit at the counter? (If you are shown to a table, the taste of sushi is reduced by 50%)
・Will the owner-chef, who is not the second best chef of the restaurant make the sushi? (This is most important!)
These are important factors and should be checked in advance whenever possible.
Step5. Know what is in season
Once the store is selected, 95% of the preparation is Done!
Then, when the date of the visit is approaching, you should study the "neta (= fish)" that will be served that day as a general preparation for enjoying the visit.
The ingredients served at sushi restaurants are largely divided into
1. Hashiri (first): The fish harvested for the first time that year (also called first fish)
2. Shun (best): Fish that have been distributed in greater quantities and have entered the market at the most delicious time of year.
3. Nagori (last): The fish that have reached the end of their food distribution period.
They fall into these three main categories.
Here in Japan, it is not necessarily only the "best" fish, but the first fish is appreciated because it is believed to extend one's life span by 75 days, and the last fish is valued because it is believed to spare the last and think of the next year. It is important to know that there are various ways to enjoy the seasons.
Just by learning what kind of fish is in its "first," "best," or "last" season during the season you will be visiting, you will be able to enjoy the sushi served on the day of your visit more.
Search